Give Hope USA Program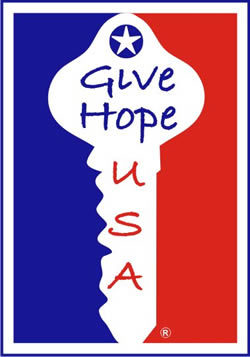 In 2010, Charity Works launched a wellness-medical aid program called GIVE HOPE USA® to provide temporary relief and wellness aid to the economically disadvantaged, health-stressed families and individuals through local servicing nonprofit agencies and schools in the Tampa Bay area.
The main goal of the program is to strengthen the outreach efforts of others who are responsible for implementing programs and activities that promote health, hope and happiness. The program provides various personal hygiene kits, packs and special gifts at no charge to those who are eligible and agree to participate.
Each wellness-medical aid pack contains various products in up to three categories -- personal hygiene products, over-the-counter medicines and dietary supplements. Additional items include educational literature, list of local humanitarian assistance centers and other basic needs information such as transportation options and discount programs for consumers. Distributions of kits and packs are customizable based on client needs.
In 2012, the GIVE HOPE USA® program began making distributions of funds and specific requested gifts such as clothes, blankets, toys, games and other basic necessities during the holiday season. This program expansion was formerly part of the Holiday Gift Giving Fund ("Holiday Fund") which was established in 2007 with the goals of 1) encouraging people to give during the holiday season, 2) leveraging charitable gifts purchased for underprivileged children, 3) strengthening relationships between retailers and children's charities, and 4) promoting volunteerism during the holiday season.
In 2018, twenty five agencies received distributions from the GIVE HOPE USA® program with a wholesale value of $48,500. See list of participants.
Charity Works' latest initiative is to build a network of agencies to effectively provide 24/7 access to free basic personal hygiene products and supplies. This effort is designed to benefit Title I schools, homeless shelters, neighborhood centers and other nonprofits that maintain a supply depot that serves those in need. The service area of the supply depot/pantry project for 2020 will begin with agencies operating in Pinellas County, Florida.
For public and private schools, the proposed list of basic items needed are:
| | | | |
| --- | --- | --- | --- |
| Bras, Training | Feminine Pads and Panty Liners | Nail Files | Soaps |
| Belts | Hair Styling Products | Petroleum Jelly | Socks |
| Combs | Hair Ties | Reusable Water Bottles | Sunscreen |
| Containers/Storage Baskets | Ice Packs | Shampoo/Conditioner | Thermometers |
| Dental Floss | Lip Balm | Shoelaces | Toothbrushes |
| Deodorant | Lotion | Small Makeup Pouches (for Feminine Products) | Toothpaste |
| Eye-Glass Cases | Mouthwash | Snacks | Underwear |
In an effort to help sustain the GIVE HOPE USA® program, Charity Works will be inviting manufacturers and distributors to participate.
Give »

Contact us for more information on how you can help our efforts to provide for the needs of the economically disadvantaged in the Tampa Bay area.