WHEN:
Saturday, November 20, 2021 at 6:00 PM

WHERE:
DRESS:
HOTEL:
PRICING:
Seating
$175 per person PARK PLACE PLAYER, Open seating
$200 per person BOARDWALK PLAYER, Premium seating
$250 per person TOP HAT PLAYER, Premium seating, program recognition,
5 Chance Auction Tickets and 1 drink ticket
$100 per person JAILBIRD LOUNGE, Non-player seating section
See
Sponsorship Agreement
for special benefits
Chance Auction Tickets
Advance Purchase Price Only:
$100 for 35 Tickets
$50 for 17 Tickets
$25 for 8 Tickets
Reserve your seat(s) and auction tickets by Wednesday, November 17, 2021. Complete the
Invitation
once it is posted.
INVITATION: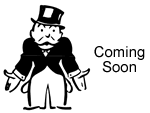 Contact us for more information:
The MONOPOLY name and logo, the distinctive design of the game board, the four corner squares, the MR. MONOPOLY name and character, as well as each of the distinctive elements on the board and the playing pieces are trademarks of Hasbro, Inc. for its property's trading game and game equipment, © 2021 Hasbro, Inc. All rights reserved. Used with permission.
---