Give Hope USA Program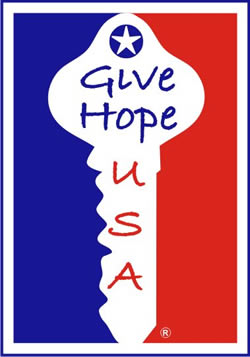 In 2010, Charity Works received a startup grant from Allegany Franciscan Ministries to help launch GIVE HOPE USA®, a program designed to provide temporary relief and wellness aid to economically disadvantaged families and individuals through local participating nonprofit agencies, including public schools.

The specially designed Wellness-Medical Aid packs contain various products in up to three categories--food supplements, personal hygiene products and over-the-counter medicines. It also contains a small pamphlet about how to maintain a healthy diet for individuals living on or below a poverty level income, a map containing a list of humanitarian assistance centers such as food banks, emergency shelters and free clinics, etc. located throughout the Tampa Bay area, and other basic needs type of information such as transportation options, discount programs, coupons, etc. Distributions include basic necessities such as personal hygiene products, dental kits, clothes, toys and/or travel vouchers.

In an effort to help sustain the program, Charity Works will be marketing it to manufacturers and distributors for product placement and branding considerations.
Articles:
The CharityWorks® Cup Challenge fundraising event is held annually in November to benefit this program with distributions to participating nonprofits and schools serving children and adults in the Tampa Bay metropolitan area. In 2014 during each golf tournament, we began to recognize an individual as our program's Ambassador, one who has demonstrated exemplary support and contributions made for the basic needs of youths and adults in our local community. For more details on the award winners of the Ambassador GIVE HOPE USA® wellness-medical aid program, visit our Events page.



Holiday Gift giving Fund